When two individuals are madly in love with each other, they take a step forward in their relationship and that is when they decide to get engaged. This step of engagement holds a very important place in their relationship. Engagement to them is not just exchanging rings with each other but a promise to each other to always stay together in happiness and sadness or whatever the circumstances are. Thus choosing a ring becomes very crucial as it's not just a ring of metal and stones rather it holds great sentiments and most importantly loves.
Engagement is considered important in all cultures. The engagement rings matter because it is a promise of a journey that has neither a start nor an end, it's the same as always to go to eternity and beyond. An endless and simple loop that can even defy the laws of time and still stay the same, yes a belief too strong, a belief that's powerful as a whole on its own. These powerful feelings come from that simple yet elegant piece of metal i.e. a ring.
Art of Morganite Ring Making
The art of ring-making is another beautiful world on its own while the basic layout is made by carving wax and molding to casting it to make those curves perfect at each tangent, after which the finishing and polishing follow. Morganite used as a great alternative to diamonds when it comes to engagement rings, not only for its pretty-in-pink beauty but because of its durability. On the Mohs 10-point Hardness Scale (a test used to see a stone's resistance to being scratched), it ranks as a 7.5 to 8. A diamond, by comparison, is a 10.
Even though the art couldn't be any less complete yet there is always room for improvement. From the pages of history till today these rare stones have always made place above all. Beginning from the emerald, which shines with the color of our mother nature to those sapphires that reflect the color of the oceans?
A list of these couldn't even begin without diamonds in them, can it? But this article is on one of such – rings embedded with Morganite stones. Although it's available in different colors the most likely one is the peach-pink color of the stone. It's clear, comfortably shiny, and very elegant with the cuts.
What makes Morganite best stone for Engagement Rings?
For the non-traditional bride, this is a stone that won't go out of style but still has a lot of personalities. While the stone is a 7.5 on the Mohs Scale, that's more than a few points below the strength of a diamond. The edges of the Morganite stone could easily chip if it's banged around on a daily basis. This requires a protective setting around the Morganite. A stunning alternative to a prong setting is to use a halo of diamonds to protect the pink stone.
The quality of the stone can dictate the price. There is no certification from GIA to protect the customer, but some have other ratings to help the customer make a decision based on the quality. You want one that doesn't have visible inclusions. Be wary of a stone that is incredibly cheap since it's likely to have flaws.
Below points are sufficient to justify that the Morganite ring is one of the best choices as an engagement ring,
Morganite engagement rings provide spiritual support to the person wearing it.
It has a good effect on the physical health of humans.
Wearing Morganite engagement rings gives mental peace.
You should choose this pink gemstone not only for its beauty but also for the above properties Morganite stone has.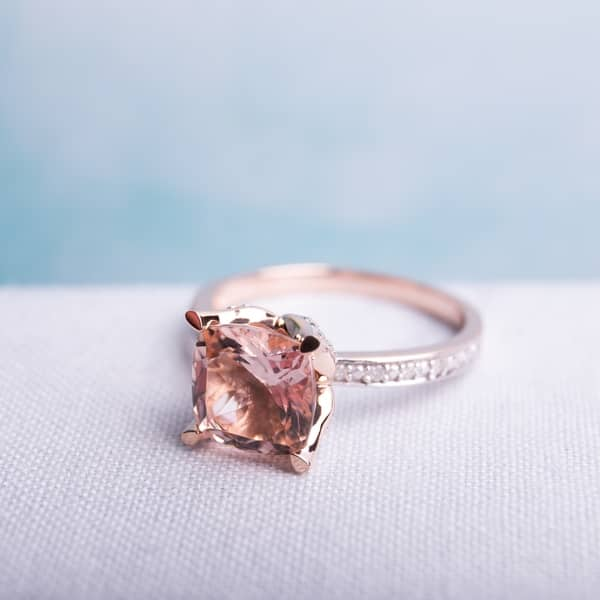 Selection of your Morganite engagement ring
Your eyes choose a different think your gut feeling will choose different things and the quality of that thing will be different than the original things so always think before you buy anything and they find a solution by some anonymous person that "quality define the worth of the product", so always remember that and work accordingly. While shopping in there are a lot of people who sell duplicate jewelry. Never mind, we always have some process through which we can find out how to know whether you are buying an original piece or not?
When you have chosen a morganite, check its cut, clarity, and collection of colors. That defines most of its originality and truth. Examine your morganite stone with some warm water and socket in it for 10 to 20 minutes and then take it out and then why pit the clean cloth and if the water is colored then you will get to know that it is an artificial morganite and if the water is plain clear then you will know that this is an original morganite.
First of all, go to a branded jewelry shop and ask them to verify whether your morganite ring is an original one or its a fake one on artificial one. Just always remember that they will scratch that they will hammer and then they will be soaked in water for some minutes and take it out so as to know whether these are colored are there originally colorful.
In some shops we will find that they will take it into a container and check it out by laser treatment how much carat have and how much qualitative it is.
Morganite is a very beautiful gemstone and while giving it a shape to fit in the ring, it looks a bit different but the shaping has minimum effects on its shine and beauty. Morganite ring can be made into a beautiful round cut or oval cut and it looks as beautiful as a diamond ring. If the color of Morganite is way too light then it's given a slightly deep cut to make it look intense and beautiful. During the time of verification, be patient. You do not have to worry about the Morganite if it is being handled by a professional jeweler as they know how to handle a Morganite.
Conclusion
Being tremendously trending, Morganite engagement rings are very useful for physical, emotional, and mental health. It is equally affordable and durable. It has so many pros over cons. With a Morganite ring, you can gather a lot more confidence inside you.
Morganite is one of the best choices for engagement. Nevertheless, it has a lot of properties to adore. Once you are well aware of the properties of the morganite, why don't you gift this pink diamond to your loved one? Trust me it would be your best choice as an engagement ring.